71 st Prize Bond Draw Result Of Bangladesh Bank
Published !
3oth April 2013 is the Date for 71 st Prize bond Draw Result. Bangladesh Government has introduced Prize Bond Scheme in June 1974. Its draw take place in every three months. It do not bear any interest. The prize bonds can be purchased from the offices of Bangladesh Bank, branches of the authorized commercial and specialized banks, National Saving Bureau and also from the post offices. You can get your money any time. Thats why its helpful.
From the Below search page you can search any previous result including the latest search result.
Search Here For Result:
Prize bond results can be searched here, You dont need to go through Newspaper.
The latest Draw of 100 tk prize bond was held in 30th April, 2012. Its result has published. The 68th prize bond result will publish 3 month after the 67th result.
69th Draw Result Of 100 Taka Prizebond
69th Draw Result Of 100 Taka Prizebond has published on 31st October 2012, see the result here:
68th Draw Result Of 100 Taka Prizebond
67th Draw Result Of 100 Taka Prizebond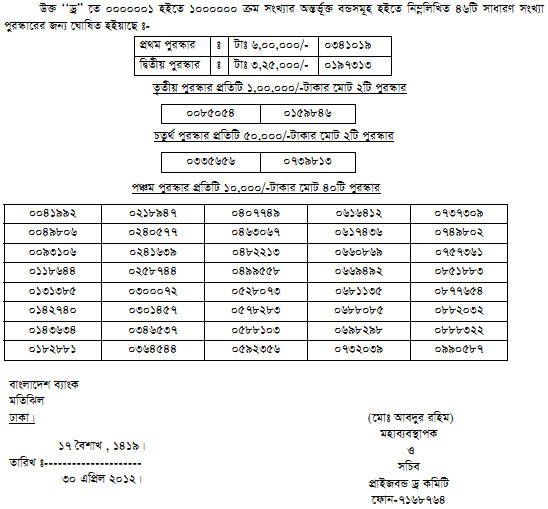 Revised on 1 May, 2013